It's another happy Feature Artist Friday again!!! This week we get to feature someone that has just started blogging in February and ever since, she has wowed us with her amazing talents.  She has an eye for design and her projects are just beautiful.  We knew that with her projects, that it was a matter of time that she'd get into a design team.  Sure enough - RSMobleys Designs snatched her up within a month!  She also has been designing SVGs on top of her design team work, and they have been just really beautiful.
Please welcome our third Featured Artist - Lenae Daly!!!!!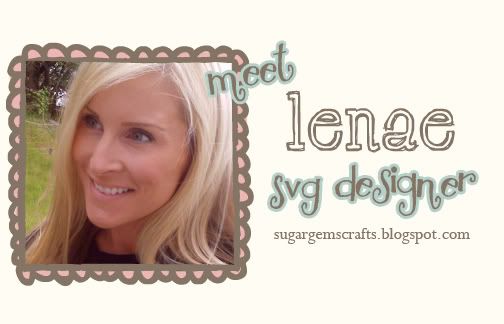 Hello Lenae! Please introduce yourself!
Hi I'm Lenae! I live the beautiful NW with my fiancee and my black lab. I have been into arts and crafts all my life and have really gone bonkers in the last year over paper crafting.
So, what got you into crafting/how did you start your business/DT that you're on?
I would say my mom got me into crafting. She always encouraged me to be artsy. As far as paper crafting though, I was invited to a card making party about 6 years ago. That was all it took and I've been hooked ever since! I have been making cards and expanding my crafting abilities since then. I am completely 100% obsessed! Right now, I am really obsessing over stamping, coloring and 3D SVG design.
Where do you get your inspiration? 
I am inspired by so many things I couldn't just say one thing. I would say the internet has really opened up my eyes and expanded my horizons. I would say all of you out there in web land have inspired me the most. You are all so amazingly talented. Youtube is a fabulous place to get inspiration.
When do you get to craft and design? And, tell us know your other hobbies and interests!
I lost my job about 3 years ago due to the economy. The company I worked for went out of business. Since then I have been blessed with more and more time for crafting and a fiancee that supports my hobby. I would say I craft almost every day.
Some other hobbies I enjoy are traveling, fishing, shopping, entertaining, spending time with friends,family my lab and my fiancee.
What cutter do you use and prefer?  Besides the cutter and software, what is the one MUST HAVE crafting tool?
I use a Cricut Expression with SCAL 2. It is the only cutter I have used, but I am eyeing the Black Cat Lynx when my Cricut dies.
I would say the one tool I would not be able to live without is my laptop. It's really hard just choosing one thing.I don't think I could live without most of my tools! Hahaha... But if you don't already have a set I would definitely recommend the Tweezer Bee tweezers that Jessica also recommended. They really make paper crafting easier. Especially with those teensy tiny pieces.
Now, we get to show you some of her beautiful work!
Square Cupcake Pedestal - This was one of her first SVGs that she's designed and wow - how fantastic is this? The download link on her blog had expired, but she has re-activated for all us to download today only from her blog post today! Thanks Lenae! (cupcake wrapper not included)
Rainbow Spinner Card - How clever is this! This cheerful card would brighten up anyone's day!  You can purchase her SVG file on her blog side bar if you're interested!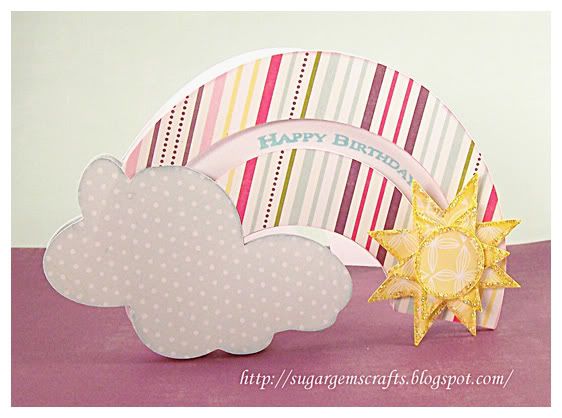 And, lastly, but not least - the amazing 3D Picnic Bench! How cute is this???? This would definitely be a conversation piece at your next picnic party! You can also purchase this file on her blog sidebar as well!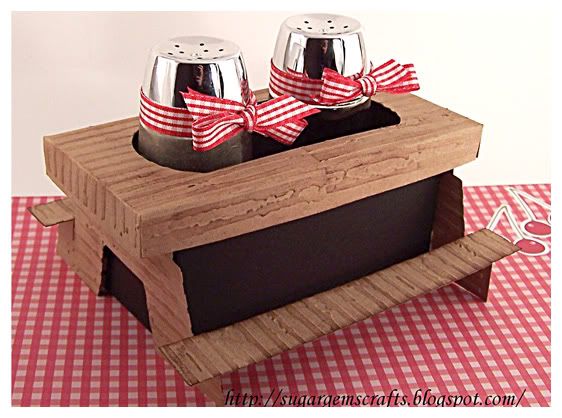 Now, aren't those SVGs so pretty!! As a bonus for featuring her today - she is giving away the above 3D picnic table to one lucky winner that comments on her blog! Totally wonderful, right?  So - please visit her SugarGem blog, tell her how awesome she is, and you may be the lucky one! 
She also has a SugarGem FB page, so please join her as well there!
Thanks so much Lenae for joining with us today and sharing your fantastic work! 
We hope that you enjoyed our Featured Artist today, and we'll see you on Sunday!  Sunday, you ask??? Well, Tamara is featuring one of her lovely projects for Silhouette Sunday!!! (a new feature we plan on doing every couple of weeks!)
After that, join us Monday for the third challenge!   Can you believe it? It's the third one already! The next one's gonna be cute!
Don't forget -  Patricia's A Little Hut Mini Dollhouse challenge is running through 'til Sunday - so make sure that you get your entry in! As of now, we only have ONE entry in, so that means she's taking home two prizes! You can't let her do that, could you???  Get your entry in, as there's a great chance that you'd win something!  We'll be announcing the winner for that next Wednesday!