Hooray! Yippee!!!! Yes, it's another Feature Artist Friday! We have so much fun being able to introduce so many talented people in the SVG world!
This week, we are featuring someone that is super ecstatic about SVGs and has a love for third-party software and Inkscape.  Okay, okay, I know that pretty much everyone that reads this fits in this category! lol....   Anyway, she doesn't sell her files, but instead, she shares her passion by creating cute SVGs and sharing it through her blog.   Once you start following her blog - you'll find that you'll LOVE her genuine personality and her sense of humor that comes out in her writing :) So, you wanna know who this is????  I know you do!
So, please welcome...................the one and only Belinda Brown!!!!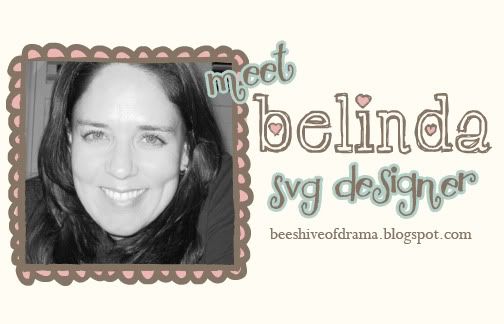 I cannot begin to tell you how excited I was when I first heard about how my buddy Thienly and Tamara, were planning on creating a blog just for us SVG addicts! It was as if a candy bar was invented with chocolate & peanut butter! (What? There is a candy bar with chocolate & peanut butter?! That's almost as great as Thienly & Tamara doing a blog together!).
My name is Belinda, and I have a blog called http://beeshiveofdrama.blogspot.com and when I started it I had no idea how much fun it would be and how many great friends I would make. One of the highlights was actually meeting Thienly and her beautiful family at California Adventure with my family. It will be of no great surprise that my family just adored every single one of them,  they are some of the loveliest people on the planet.
What got me into crafting?
I began crafting, rather scrapbooking, about 15 years ago. My sister convinced me to have a "Creative Memories" Party. Since then I'm always longing to sit down and craft.
What inspires me?
My inspiration for creating SVG's comes from the NEED of an object. These usually consist of designs that I haven't seen available in the sizes I want them in or in the colors I want. My kids give me a lot of ideas also. My son draws constantly, and I steal his ideas.  As far as actually making  scrapbook pages & cards, I get much of my inspiration from my fellow bloggers, crafting magazines (creating keepsakes), my local scrapbook store, and much from what I am working with. For an example, my Redwood tree SVG's were inspired by a trip I did last year with my family to the Coastal Redwoods. I couldn't find any tree that resembled these majestic things anywhere, so I traced them in SCAL and that's when I realized that I was bitten, and good!
When do I craft?
My husband is a firefighter for LA County Fire Department and my free time is dictated by his schedule. I sometimes will manage to get an hour or so during the day while the kids are at school or in bed. But truly- I feel  I never  get enough time, I'm sure many of you can feel my pain. When I get to scrapbook pages from our vacations, those truly show my other interests. I love our National Parks (I'm not big on the bugs though-yah yah I've heard it all, they're essential in the ecosystems-still don't like them), perhaps it is because when I was a kid, my parents trucked my sister and I all over the U.S. camping and visiting the majestic national parks. I had always wanted to be a Forest Ranger! I am fascinated with history- I can't seem to get enough of it, so I always jump at the chance to visit museums, in fact as I sit here and type this, the History channel is on!
What tools are essential?
I currently use Inkscape to create SVG's. After an initial love/hate phase- I now find it incredible and it's FREE! A Cricut Expression is my current cutter, with SureCutsAlot2 . I knew before I bought the machine that the SCAL software was needed if I was going to buy the cricut. I will be replacing my cutter as quickly as I can with either a Lynx, Pazzles or hopefully, soon, a 12 inch Silhouette. I want to run both SCAL & Make the Cut. I am amazed at the amazing things it can do!  I am hoping to be provocraft free in a year.  Other than my SCAL software and a electronic cutter, a very vital thing in crafting to me is the basics good pens, good scissors, adhesive, and fabulous paper…the more paper the better.
Thank you my fabulous Paper Dolls for honoring me with this opportunity to share with you and your amazing fans.
Thank you Belinda for joining us today!
So, Belinda is known as "Bee", and guess what was one of her first files she made??? Yup, you guessed it! It's a bee!  It's pretty - just like her :)  Click here if you would like to have this bee in your life!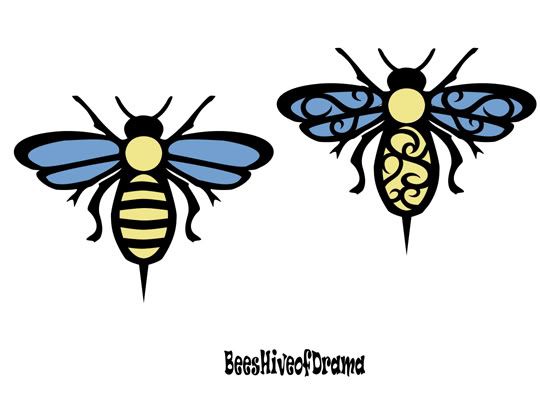 She also made some fun little monsters - makes a perfect embellishment on a kids' birthday card! Click here for the monster download :)
...and, lastly, but not least... her 100th follower Vertical Envelope w/Hearts SVG - showing her love for shopping!  Cute!
So, that's Bee!  Make sure that you go join her blog and say "hi".  You'll be glad you did - she's super nice!
We hope that you enjoyed our second Featured Artist, and we'll see you next Monday for the second challenge!  You are going to be wowed with next challenge - it's going to be super cute and you're gonna love it! AND there's going to be two prizes!!!!! Can you wait????
Don't forget - Jessica's Paper Doll SVG challenge is running through 'til Saturday - so make sure that you get your entry in! We'll be announcing the winner for that next Wednesday!
Have a fantastic weekend to all our crafty peeps, and we'll see you back here on Monday!
~The Dolls
If anyone is interested in being featured on our blog - we have currently closed our scheduling for Featured Artists.   (Guest Designer spots are still open)  We've had tremendous response and we're booked right up until the end of September!  We'll be opening up the calendar again in early September :)  Thanks everyone for the amazing support!