Happy Monday! It's a new week and a new challenge! A big THANK YOU to those who joined us last week! We will announce winners on Wednesday! LOved all those 'flippy floppy's'!
This week we've got a fun challenge, but no freebie files. It's all about STAMPS this week! Who doesn't love a good stamp sentiment? They add that 'little extra' to a card, layout, etc. So, show us what you've got! Use a stamp, ANY stamp! Your project must be created with mainly SVG files. We've got a fabulous prize for you this week! As always, the wonderful SVG Place has donated $10.00 to one random winner. Also, they just started a Facebook page! Please go show them some support and 'like' their page! They donate $10.00 to us EVERY week! We're so thankful!
Then, the winner with the BEST project will win a $15.00 gift certificate to pinkbydesignstamps.com! donated by Sarah! Wow! Thanks, Sarah! Be sure to stop by her FACEBOOK page and say thanks!

Ready for some inspiration? This week, we've got Thienly and our guest designer, Jessica, from SVG Attic!
Thienly - Mod Paperie
I wanted to create something fun that I could use to motivate my kids to read over the summer.  So, I decided to create some bookmarks and place it in a beach pail container!   Aren't the stamps cute?  These are all Pink By Design Stamps - Summer Vacation! More pics and detail available on my blog!
Jessica - Jessica's Crop Corner
Jessica created an amazing step card with a beachy theme! These are her own SVG File designs from SVG Attic! Nice, right? Love the simple stamp! Thanks for joining us this week, Jessica!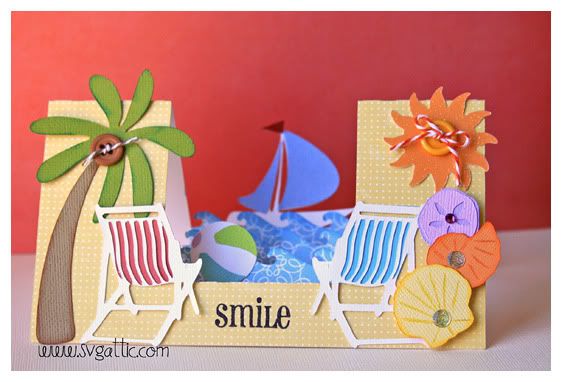 Are you ready to play? Here's how!
1). Create a fun project using SVG files and add ANY stamp to it!
2). Post them on YOUR blog*.. click on the TITLE of your blog post you want to share and copy the link from your browser.
*You can also host them from Flickr or other hosting websites if you do not have a blog.. :)
3). Come over to Paper Dolls and share! Make sure you select the thumbnail photo you want!
4). Share about our challenge and giveaway on Facebook or your blog... pretty please?
Then, next Wednesday we will post the winners!..
We can't wait to see everyone's stamped projects!
~ The Dolls