Hello there! It's our first Silhouette Sunday! We've notice Silhouette's are getting more and more popular, especially since the whole 'bug' lawsuit with MTC and SCAL. Both of us dolls caved and got one!
The Silhouette is an amazing little machine that cuts like a dream! It's very afforable at under $200 (I got mine for $154!) compared to other cutter, so that's a plus!  It does only cut to 8" but really, that's perfect for most projects! Plus, you get to shop the Silhouette store that has all sorts of cute little things to cut! You can NOT cut SVG files through the Silhouette Studio BUT, you can open them in Inkscape (a free program) and save it as a GSD file. Easy peasy! If you have MTC, there is a NEW plug-in available that allows you to cut your SVG's through your Silhouette without having to use printer drivers and all that mess! You can download the plug-in HERE! It's beta testing right now, but give it a go! As far as SCAL, I am not sure and if someone knows, we will gladly add the info!
One of my (Tamara) favorite features is the amazing print and cut! It cuts pretty spot on to a printed graphic with a few simple steps thanks to it's super snazzy opical eye!
The other day I was struggling with trying to figure out how to color a layered GSD file and make it into a print and cut. With some research and lots of playing around, I figured it out! It's actually pretty easy and once I did it the first two times, I was able to go through them super quickly.
So, in this Silhouette Sunday, we will be coloring a cutable GSD file and making it into a PnC (Print and Cut).
Fire up the Silhouette and open the Silhouette Studio Software.
**EDITED 6/16 - I actually created a video tutorial if you rather watch this instead! Enjoy!**
For this tutorial I am using the cute Echo Park Fish available in the Silhouette store.
First, I took a screen cap of the fish as shown in my library because I wanted to color mine the same colors to match the Echo Park Splash papers. I did color the eyes differently.. I just prefer them with black pupils. So you will want to save your screen cap and crop in on the fish. In the Silhouette Studio open the fish cut files on a new mat. Then go to FILE>MERGE and select the little screen cap of the fish and open it. IMPORTANT: When opening graphics, etc. make sure 'all files' is shown on the drop down menu.
 Once you have it open it will look like this: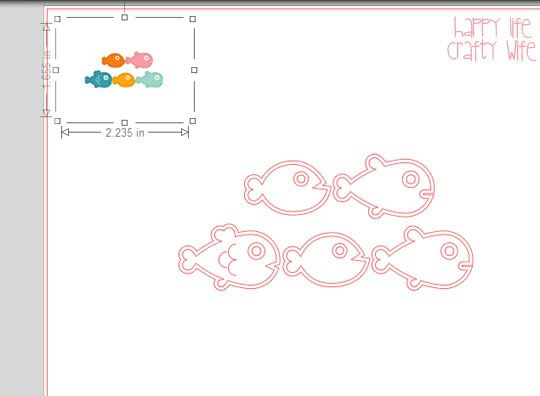 Now we will color the fish! Ungroup the fish by selecting the group of fish and right click 'UNGROUP'. Now you will see all the pieces separatly. Now drag the pieces down for one of the fish so you can easily select each layer.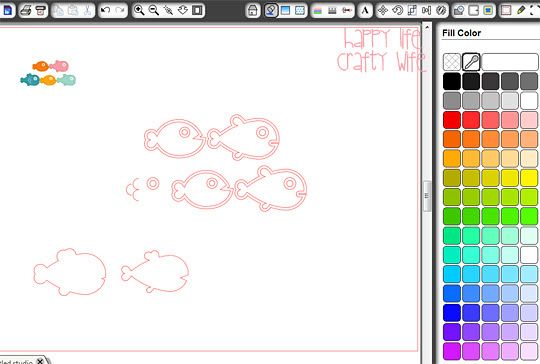 For this tutoiral we will color the smaller area/inside of the fish. Open the paint bucket / fill color window. Now select the shape you want to color. See the 'dropper' tool? Click that to select it and then click on the colored fish that you want (the teal one) now your dropper will select that color and add it to the fill color window. Just click the color on the palette (it will be right next to your dropper tool, as shown below) and voila! The first part of the fish is colored!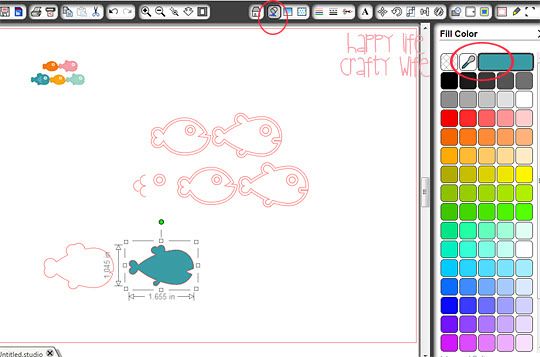 Now you will place it back over the white fish shape (you can make it a little darker or a whole other color if you prefer, but I chose to leave it white) Just line it up where you want it! Once you do that, draw a box over the layered fish shapes and right click 'GROUP'.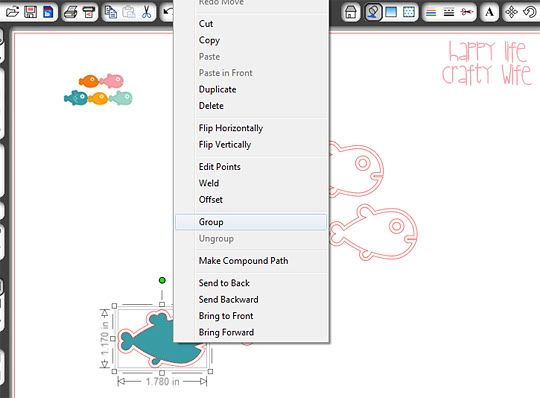 Now you will color the white and black of the eye. Same way as I mentioned above. When you go to layer the eye over the fish, it might be behind the fish. Just right click the fish shape and select 'SEND TO BACK'. IMPORTANT: Make sure you color the eye white first.. or it will be 'invisable'.
Once you have the fish all colored and layered. Draw a box over the fish and group them so the fish will be one single graphic. (I decided not to use the 'fin' on the side.)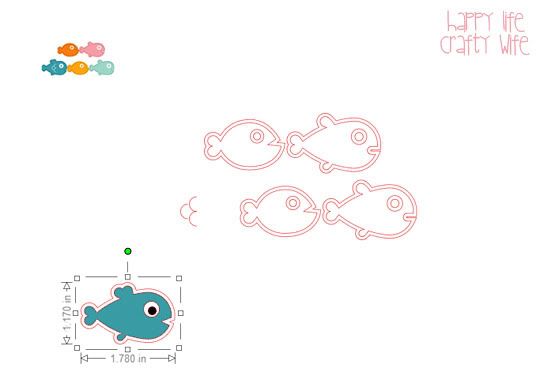 Do these steps for each fish until they are all colored!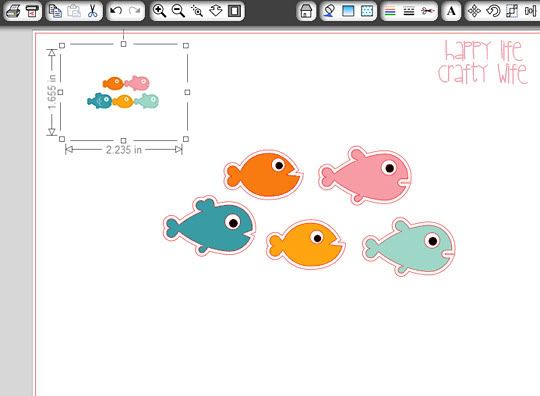 Now we will print and cut! Whoo-hoo!
First, draw a box over ALL the fish and right click 'GROUP'. Open the cut style window and you will see all the parts of the fish the Silhouette wants to cut.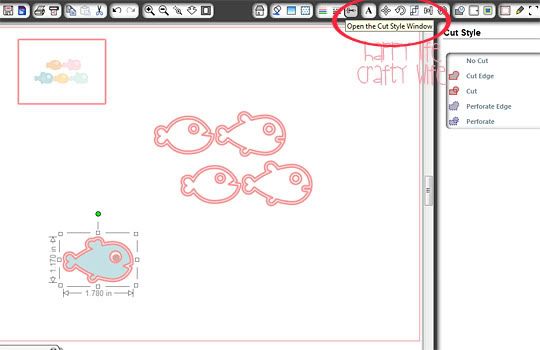 You are going to click 'CUT EDGE". (Image below only shows one fish ready to cut)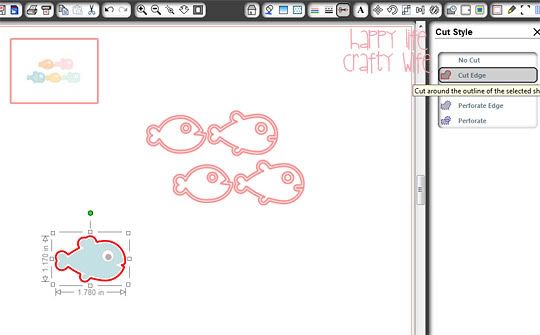 Now it's ready to cut! Delete the graphic in the corner for color reference (if you haven't already) and open your registration marks window and click 'SHOW REGISTRATION MARKS'.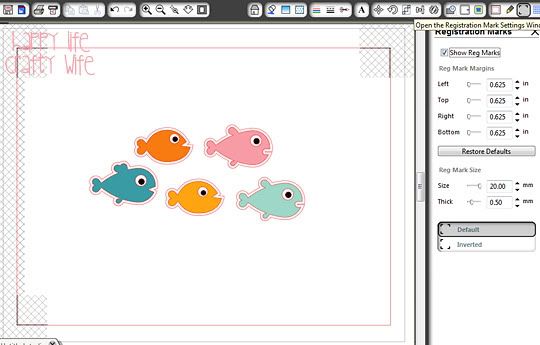 Now print! Make sure the graphics do not cover the registration marks!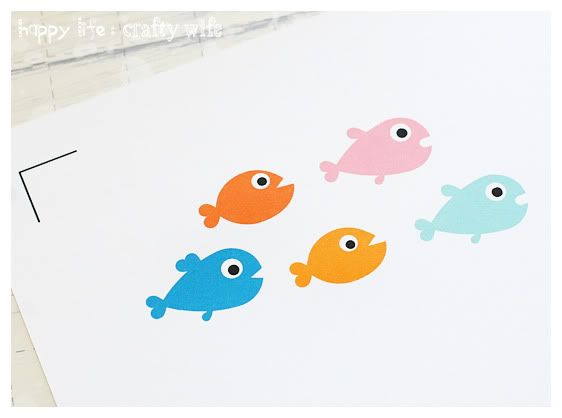 Time to cut! Put them on your cutting mat and send to the Silhouette! Make sure you have the Silhouette detect the registration marks!
There ya have it! Perfect little fish, freshly cut!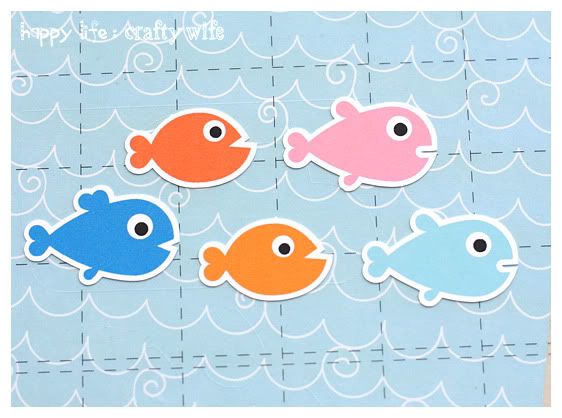 Sushi, anyone? ;)
I hope you enjoyed this tutorial!.. it seems a lot harder than it actually is! I promise to do a video of this soon! Just need a microphone for my computer first! Once I get a video done then I will put it up!
Enjoy!
We will see you tomorrow for the NEW MONDAY CHALLENGE! Thienly and I are going to rotate week's for challenge inspiration projects... and she has made something SUPER cute for this week! And don't forget, our next LINK-UP PARTY is on June 21st. The theme is any project using Paper doll colors!pink/beige/white/blue/yellow! So get your projects ready!!
-- The Dolls