Hi all!  Do you all remember those awesome flip flop boxes from a challenge a few weeks ago??  We all loved them, and it was so fun to embellish them!  Well, today, it's another Featured Artist Friday and guess who we are featuring??? Yes, it's the artist that designed those flip flops! 
Please give a warm welcome to our special guest today - Eleanor Partridge!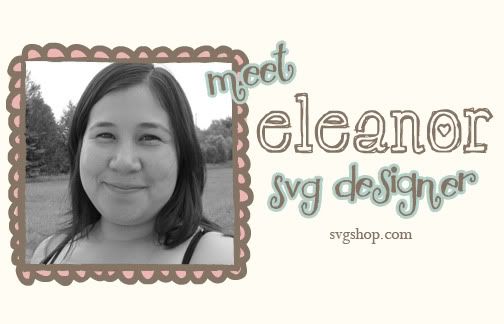 Hello Eleanor!  Please introduce yourself.
Hi, I'm Eleanor from SVG Shop. I'm a work at home mom to four kiddos, yes four! My life is pretty busy but I always find time for crafting.
Wow! 4 kids!  So, what got you into crafting and how did you start your business?
Like most crafters, I've always been crafty and in the early 2000's, I knew I wanted to start a crafting business. I've made everything under the sun, had various Etsy shops and in 2009 I started SVG Shop. It was actually an accident that I got into creating SVGs - I was making clipart and saving it in SVG format instead of EPS, so one day a customer wrote me saying my SVGs weren't working. That's how I found out about cutting machines and SCAL and have been addicted since. It's been a very slow start but SVG Shop is my baby and I'm glad I've stuck with it.
What inspires you?
Pretty paper is definitely my number one inspiration. I love cute things and simple designs. I've recently gotten into party planning (MG Party Impressions) and making paper stuff for parties, it's so much fun and a little frivolous so why not?
When do you get to craft/design? and let us know your other hobbies/interests?
I design whenever I get a chance, but I get more stuff done in the mornings and late at night. Some other hobbies I have are swimming, playing guitar, designing clipart, and helping my kids with their blogs. Oh yes, and baking, I love baking!
What cutter do you use and prefer?  Besides the cutter and software, what is the one MUST HAVE crafting tool?
Right now, I use my Cricut Expression with SCAL 2. I have a wishlist with both a Silhouette and an eCraft on it, SCAL 3 is already patiently waiting. The number one must have crafting tool is a double-sided tape dispenser.
Her SVGs are pretty cute and modern - and pretty versatile! A must see!  She's got 91 sets in her store,  but here's three of them!  (She has recently started designing Printable Templates, too! Cool!)
Cupcake Stands SVG Kit - These stands are adorable - wow your guests at your next party! This set includes 4 different tops with 3 different stand height options.  Her cupcake wrappers are also worthwhile to go check it out!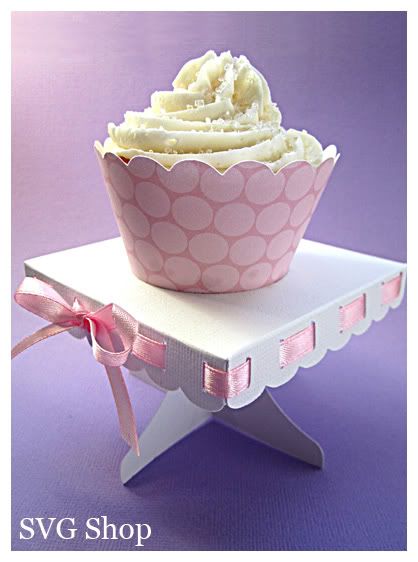 Flower Cake Wraps SVG Set - How pretty is this to wrap your cake with these? Makes any simple or ordinary cake look amazing!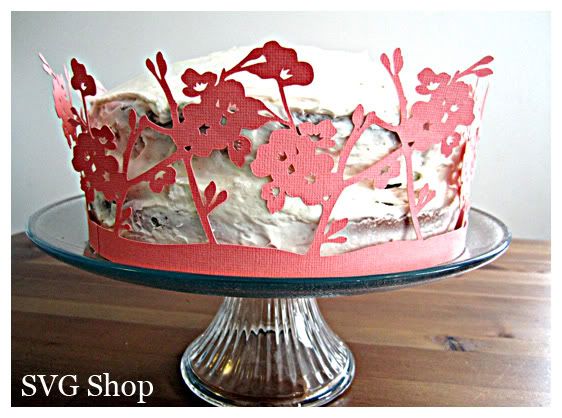 Mini Egg Boxes SVG Kit - This would be the perfect Easter gift to fill them up with goodies!  Take a look at her store for other holiday boxes.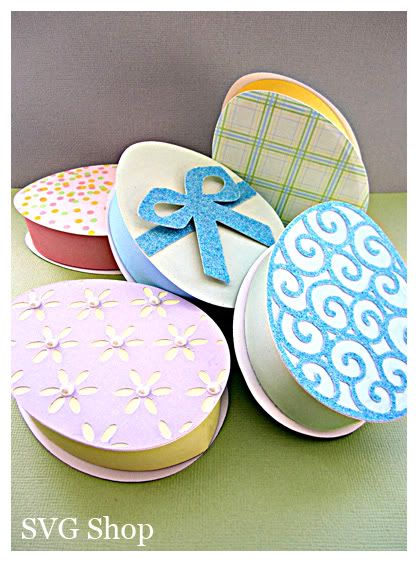 Thanks for joining us today! She also has a FB page and a blog (she has freebies for you to enjoy there!) as well, so please go visit her there and say hi!
Don't forget about the challenge going on right now using 3D Flower files from Paper Compulsions.  Make something, post your link for your chance to win either 20 handmade flowers from Paper Compulsions or a $10 gift card to SVG Place.
~The Dolls