Happy Monday! Ready for our next challenge? With this one you can do so much and they can be used in so many different ways! Have fun and be creative! We can't wait to see your projects!
This week Jani at Paper Compulsions created some BEAUTIFUL 3D flowers! Thanks, Jani!
Now for some inspiration! This week we've got Thienly and two fabulous guest designers!
Thienly - Mod Paperie
These flowers are so beautiful pretty much anywhere you put it, but decided on embellishing my watering can to give it a flower garden feel.  This is actually a little "bag" and can be used to give some little goodies to your special friends. 
Bee - Dare to Bee Creative
Bee made a beautiful card! Love the flowers on a card like this so much! Thanks for joining us this week, Bee!
 Tammy - OBX Stamping and Crafting
Tammy made two projects to share! One is a gorgeous altered frame! I love the simplicity of this! I can totally see doing this for a wedding photo frame!
 And then she made a cute giftbag!
Pretty awesome, right? As you can see there are so many ways you can use these flowers! Ready to play?
1). Download your files HERE! (files include PDF instructions)
2). Create something.. ANYTHING crafty with these SVG files! You must use at least ONE of the files provided.
3). Post them on YOUR blog*.. click on the TITLE of your blog post you want to share and copy the link from your browser.
*You can also host them from Flickr or other hosting websites if you do not have a blog.. :)
4). Come over to Paper Dolls and share! Make sure you select the thumbnail photo you want!
5). Share about our challenge and giveaway on Facebook or your blog... pretty please?
6). If you are downloading the freebie files, but won't have time to join the challenge, it would be nice to leave a little thank-you comment to our SVG designer for this week! :)
Then, next Wednesday we will post the winners!..
We will have TWO winners this week! One random winner will win a 20 piece set of handmade flowers by Jani! (see photo below)..... And one randomly chosen winner will get a $10.00 giftcard to SVG Place!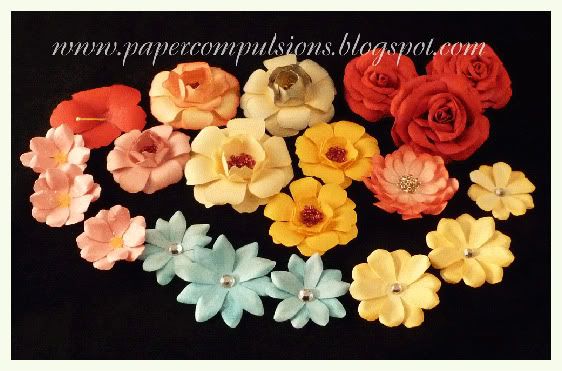 Have fun!