Hello!  We don't usually do artist features on this day, but since the PD blog is closing and she is sponsoring this week's challenge, so we wanted you all to see how amazing she is!
Please welcome Jillian Vance!!! from ajillianvancedesign.com She's only 11 years old!  How amazing is that?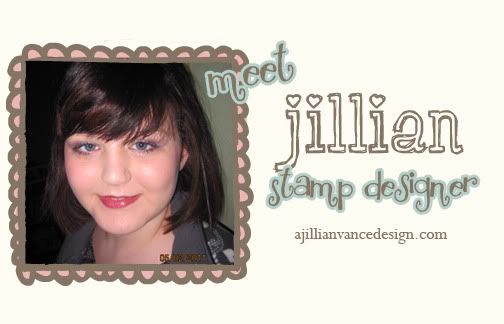 Jillian says, "With my mom and dad both owning businesses, I have always wanted my own.  So in January 2010, my mom purchased a Cricut machine for me to start my own Paper Crafting business at the age of 10 years old.  In 2011, I have designed my own line of clear stamps!  And now the rest is history!" 
She is a very creative young lady, and she decided to start a card business and sell them at her mom's salon.  Then after needing sentiments that she couldn't find anywhere, she decided to fill the niche in the clear stamp market she felt was missing. 
"There are a lot of cute stamps out there, but it is nearly impossible to find sentiments for the inside of cards, especially Christian ones ."    So, most of her sets have a reference to God, who she loves so much.  (Of course, she has lots of other ones, too!)  She also has added to her product line:  Pink Acrylic Blocks, Pear Pins ~ vintage style garment pins and coming soon -  Charming Jilly Charms for that special card or scrapbook page! 
Check out her blog, Princess and the Paper.  In addition to designing cards and stamps, Jillian loves to sing, dance and perform in local theater productions.  She lives at home with her parents and two beloved dogs, Caballo (Spanish for horse) a Great Dane and Angus, her Yorkie Poo.
(excerpt taken from her store page)
Q&A: (Bunny Vance, her mother, answered for her!)
What inspires you?   She is inspired by life itself or just looking at an object!  Or sometimes her sentiments come out of thin air! I will do a card and not know what one to use and she is like picking it out for me!  Or she already has the sentiment in mind before she makes her card or project.  I am a hair designer by profession and so I have always been creative but my mom is VERY talented at all things ~ sewing, floral design, home décor, etc
When do you get to craft/design, and what are your other hobbies/interests?  Our craft room is on our main floor so it is easy to just walk in and start creating!  Most of the time, it is after dinner that we get crafty!  I love to sew, swim and snow ski, Jillian loves to Dance, sing and perform in our community Theater productions, she just finished Cinderella at 5:00 on Sunday then we headed out for CHA!  She also loves to swim!  She has two dogs, Caballo (Spanish for horse) a Great Dane and Angus, her Yorkie Poo.
What cutter do you use? and prefer? and besides the cutter and software, what is the one MUST HAVE crafting tool?  We have a Cricut Expression and a Cricut Cake that we use for paper!  I also have Make the Cut, Sure Cuts A Lot and a Gypsy.  We learned about the Cricut Craft Room at CHA and it sounds great too!  Still MTC is my favorite program to use!Jillian will tell you Tim Holtz Distress Inks is a MUST have!  WE have gone weeks without turning the cricut on.  I love Perfect Pearls Mist but you have to ink it up before you mist on the Pearls!  She got to meet him at CHA SEVERAL times, they are on a first name basis, as is Mario and Wendy Vecchi ~ we met her in Michigan at a scrapbook show.
Her stamps are already sold in 4 states as well as Simon Says Stamp.  You can take a look at her stamps here and her latest releases here.
Here are some of her stamps:
Aren't these amazing? and yes, she's giving away a stamp sets to 3 people to this week's challenge winners.  Thanks Jillian!  Get your challenge file from Monday's post and start creating!
 ~ The Dolls